2023 Speed Run Challenge is in full swing! AK-917 has reached an impressive top speed of 162MPH, only 17MPH shy of the current fastest 1:10 RC car speed. Will AK-917 have a higher breakthrough? If so, Rlaarlo will reward the first driver to break 179MPH with $1000!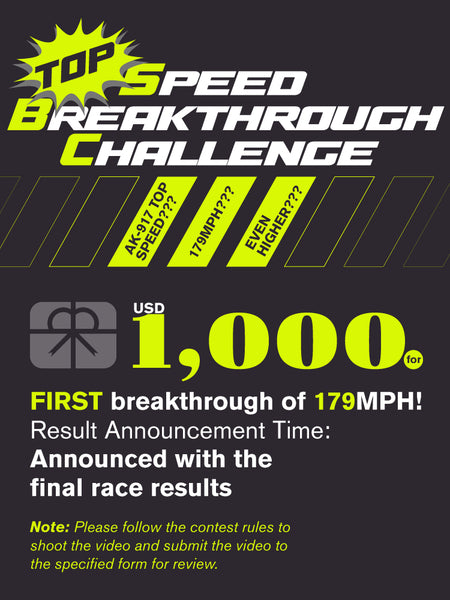 There will be 3 rounds of the Speed Run Challenge:
Qualification Race Period: June 1st 0:00 - July 15th 0:00 (Beijing Time)
Participants need to reach 80mph to qualify for the group stage.
Group Stage Period: July 19th 0:00 - July 30th 0:00 (Beijing Time)
The top 3 from each group will advance to the finals.
Final Race Period: August 3rd 0:00 - August 17th 0:00 (Beijing Time)
 If you can still win the speed challenge, the prize of the NO.1 is $5,000, plus the $1000, that's a total of $6,000 in prizes! 
How to participate:
1.Please follow the video shooting rules to shoot video.
2.Submit your video link to the designated form for review.
Video submission link: https://forms.gle/M2TBet4ERQvr31DNA
 Follow our IG account @rlaarlo, FB account Rlaarlo and website for the latest updates on the results and announcements! Don't miss out on this exciting opportunity to prove your RC car driving skills and win amazing prizes!